If you require any support from the Quality Team with any aspect of this newsletter, please get in touch with Donna Williams – Donna.Williams@mhc-uk.com.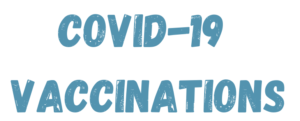 By now, you will have seen the excellent news that two vaccines have been authorised with service users and health and social care staff being the top priority to receive the vaccination.
A letter which is being circulated outlines the plans for getting the first vaccine (Pfizer-BioNTech) to care home staff from the day that the vaccinations are available. It also sets out the actions that local authorities and care providers should take in the coming days. The Joint Committee on Vaccination and Immunisations (JCVI) confirmed in its advice on priority groups for the vaccination that Adult Social Care is in its top priority groups.
Group 1 is 'Residents in a care home for older adults and their carers'.
Group 2 is 'Frontline health and social care workers'.
Getting the Pfizer-BioNTech vaccine to care home residents is challenging because of the requirements for transporting it and the temperature at which it is stored. Vaccines have been available since Tuesday 8 December 2020, initially in up to 50 hospital hubs across England, and following that more hospital hubs and other vaccinations locations will be operational.
It is imperative that we all continue to do our part in controlling the spread of Coronavirus, ensuring we focus on infection control and remind ourselves to think: "Hands, face, space".
Helen Whatley, Minister for Care, has written to care homes (for older adults), local authority chief executives and director of adult social services outlining plans for getting the first Pfizer-BioNTech vaccine to care home staff. You can read the full letter here: https://assets.publishing.service.gov.uk/government/uploads/system/uploads/attachment_data/file/941446/MSC_Letter_to_the_care_sector.pdf
Read more at:
https://www.gov.uk/government/publications/covid-19-vaccinations-and-care-homes-programme-launch/covid-19-vaccinations-and-care-homes-programme-launch and also https://www.itv.com/news/wales/2020-12-07/highest-number-of-covid-patients-in-welsh-hospitals-says-health-minister

This is an annual report on the use of the Mental Health Act (MHA). It looks at how providers are caring for patients and whether patients' rights are being protected.
This year's report puts a specific focus on the impact that the coronavirus pandemic has had on patients detained under the MHA, and on the services that care for and treat them. We recognise the unprecedented impact across the system and this will continue to be felt for some time as we enter as challenging winter period and beyond.
It is vital that there is shared learning from the initial stages of the pandemic, so that this can be applied as quickly as possible in the current wave of COVID-19 and any future resurgence.
The pandemic has presented mental health services with an unprecedented challenge, we have been faced with the difficult balance of duty of care towards residents and patients, while at the same time upholding the principle of least restriction.
The majority of the findings in the report are drawn from a combination of remote monitoring carried out during the pandemic. The evidence and findings within the report point to the actions that can be taken to support people subject to detention under the MHA.
The full report can be read here:
https://www.cqc.org.uk/sites/default/files/20201127_mhareport1920_report.pdf  and https://www.cqc.org.uk/sites/default/files/20201126_mhareport1920_easyread.pdf for the easy read version.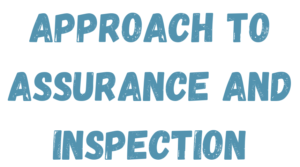 Following positive feedback on the adapted approach to assurance and inspection as well as the continued pressures that services face due to the COVID-19 pandemic, HIW have stated that the Quality Checks will continue into 2021.
The new approach has been conducted entirely off-site and focused on three areas:
Infection prevention and control
Governance (specifically around staffing)
The environment of care.
Between August and November 2020, HIW reported that:
57 Quality Checks were conducted
there were 43 summary findings reports published
They issued two immediate assurance letters.
HIW have also conducted a small number of more traditional and on-site inspections.
Following positive feedback on the adapted approach to assurance and inspection as well as the continued pressures that services face due to the COVID-19 pandemic, HIW have stated that the Quality Checks will continue into 2021.

St David's and New Hall have both completed their Tier 1 Quality Check inspections and received the Quality Report Summary with no areas of improvement identified in the key domains.
St David's also received positive feedback following the unannounced on-site inspection from HIW regarding patient admissions into the hospital.
The inspectors looked at patient care, documentation, staffing and governance process and the feedback was very positive, complimentary and HIW were pleased in the great achievements and progress made within the service.
Congratulations to all the staff at St David's and New Hall!
Further to the individual Quality Check summaries, HIW will share their findings through a series of COVID-19 updated in December and February followed by a full report in April 2021.
You can read more here: https://hiw.org.uk/hiw-continue-adapted-approach-assurance-and-inspection

By now you will have al seen the recent communications regarding the changes to Senior Management.
Updated posters have been circulated to all Managers to put up within their services to outline the changes to these key roles.
Niall Kelly – CEO:
Responsible/Nominated Individual for:
New Hall Independent Hospital
St David's Independent Hospital
Newton House
All Llangwyfan services
Head of Legal Affairs
Niall.Kelly@mhc-uk.com
01824 790 600
Andrew Maycock – Interim Operations Director:
Responsible/Nominated Individual for:
Holland House
Satellite Services
Glyn Rhosyn and Glyn Rhosyn Villas
Avalon
Meols Drive
Speak Up Guardian for all services
Andrew.Maycock@mhc-uk.com
01824 790 600

There were a number of unexpected issues identified following the RIVO upgrade on 10 December 2020.
These included issues such as:
Session timeouts/system error notification/freezing
Password and log on issues
Time taken to upload incidents/events
Unable to view events from email notifications
IP address issues
Events not saving and losing the content
Audit reporting/exporting
The majority of these issues have been resolved, RIVO are working in the background to resolve the remaining issues, we appreciate your patience while the fix is deployed.
If you experience any type of RIVO issues, please inform a member of the Quality Team to escalate to the RIVO team for investigations. Contact Donna.Williams@mhc-uk.com or Kaylee.Roberts@mhc-uk.com.

Merck Sharp & Dohme Limited is recalling specific batches of Zerbaxa 1g/0.5g powder for concentrated for solution for infusion as a precautionary measure due to the presence of Ralstonia pickettii in recent batches manufactured.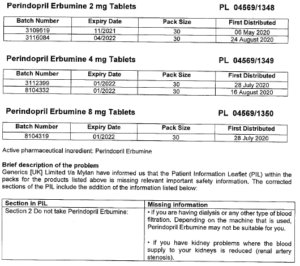 For information only:
Supplies are only being recalled from pharmacies and wholesalers, therefore no action is required by you. However, if you would like further guidance, please contact one of our Clinical Pharmacists on the clinical information hotline: 0843 506 5554.