If you require any support from the Quality Team with any aspect of this newsletter, please get in contact with Donna Williams – Donna.Williams@mhc-uk.com. 

On 10th November 2020 the RIVO/Sphera interface underwent an upgrade! The view you now experience has changed however, the functionality will remain the same with some added improvements.
Some new features include :
The new Dashboard view allows you to 'Add Cards', this will provide quick view information on events and tasks at the service/s you have access to.

The new 'menu' button is at the top of the page and is a symbol with four squares.

There is also a new 'Help' feature which provides guidance on all areas of RIVO/Sphera. This can be accessed by selecting the Question mark symbol at the top of the page. The help dashboard will then appear with advice on various sections of the systems and video walkthroughs.
If you require any advice or guidance on the new system please contact a member of the Quality Team who will be happy to assist: Donna.Williams@mhc-uk.com or Kaylee.Roberts@mhc-uk.com. 

What is a medication error? When do I record a medication error?
There could be a number of reasons why a medication error has occurred, it is important that we record accurately errors so we can assure ourselves that all the appropriate safeguarding steps have been taken and provide us with the opportunity to review and analyse data in an attempt to reduce future errors and learn lessons to support continuous improvement.
A medicines error is any patient safety incident, where there has been an error while:
Prescribing

Preparing

Dispensing

Administering

Monitoring

Providing advice on medicines.
The category for recording of medication errors on the RICO reporting system are as follows: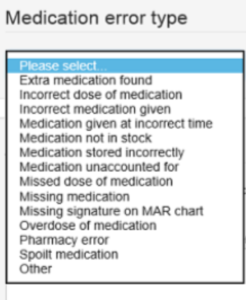 CQC updates guidance on the regulation of services for autistic people and/or people with a learning disability
The Care Quality Commission (CQC) has revised its "Registering the right support" guidance to make it clearer for providers who support autistic people and/or people with a learning disability. 
Following feedback from people who use services, CQC has updated its guidance so there is a stronger focus on outcomes for people ,including the quality of life people are able to experience and the care they receive. Now called Right support, right care, right culture, the guidance outlines three key factors that CQC expects providers to consider if they are, or want to care for autistic people and/or people with a learning disability:
Right support:
The model of care and setting should maximise people's choice, control and independence.
Right care:
Care should be person-centred and promote people's dignity, privacy and human rights.
Right culture:
The ethos, values, attitudes and behaviours of leaders and care staff should ensure people using services lead confident, inclusive and empowered lives.
CQC will be using this guidance in their assessments and judgements, this means we are encouraged to directly discuss proposals or development ideas before submitting an application or making changes to services. This can help us make an informed decision about whether plans are likely to comply with this guidance.
Read more at: www.cqc.org.uk/news/releases/cqc-updates-guidance-regulation-services-autistic-people-andor-people-learning

"Shared reflections ahead of the winter period."
The joint statement between Care Inspectorate Wales (CIW) and Healthcare inspectorate Wales (HIW) contains reflections in response to the pandemic over the past 6 months and outline the key issues needed to tackle in planning and improving for what will no doubt be a difficult winter period for the health and care system.
Recognising, and minimising as far as possible, the impact that not being able to see family and friends has on the mental well-being of many people.

The importance of having a coordinated communication strategy that minimises duplication and clearly highlights key issues and changes to guidance.

Ongoing access to infection prevention and control training and support.

Ensuring easy access to sufficient personal protective equipment (PPE), with clarity about its use.

The importance of continuity of staffing because of increased risk of agency staff transmitting the virus if they are working across different services. 
https://careinspectorate.wales/sites/default/files/2020-10/201005-shared-reflections-ahead-of-the-winter-period-en.pdf

In November 2019 new Safeguarding Procedures were launched.
We would like to make all staff aware of the new National Safeguarding Procedures for Wales.
There is also an app which is free to download or staff can access the information contained in the app on-line.
The Wales Safeguarding Procedures detail the essential roles and responsibilities to safeguard children and adults who are at risk of abuse and neglect.
It is a really useful tool with lots of information readily available at a click of a button! Download the app on the Apple or GooglePlay store today. 
Quick links to Safeguarding procedures in both England and Wales have also been placed on your desktop to access quickly.