We have had an amazing response to our Halloween competition! Service users have been very busy with the staff decorating services and preparing delicious buffets for parties!
As we had so many incredible entries, we decided to issue a 1st, 2nd and 3rd prize!
1st prize – Rockfield
2nd prize – Pine
3rd prize – Newton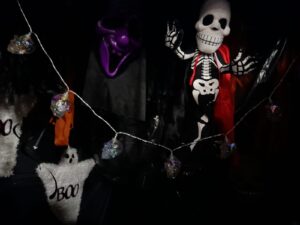 At Rockfield, residents and staff worked hard all week to cover the lounge ceiling in black bags so the lighting would be more effective, they hung decorations, carved pumpkins, made banners and also created a creepy corner and a life-sized IT!
Residents enjoyed games of pass the pumpkin and wrap the mummy – a great night for all involved.
Pine Cottages had a wonderful socially distanced Halloween party and all residents and staff had a great time.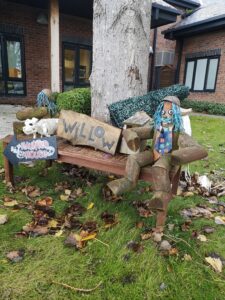 Willow also decorated their home and garden for the occasion, staff supported the residents to create a giant spider. It definitely added some spookiness to their decor!
'If you go down to the woods today' was the theme in the Newton House dining room this Halloween!
Patients and staff decorated their three dimensional tree which is constructed from modroc and polystyrene.
Larch also celebrated by hosting their own in house party. The residents carved pumpkins and made cupcakes.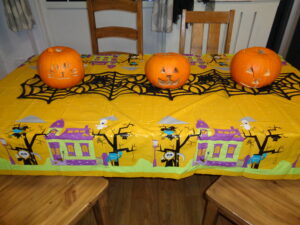 Avalon residents spent some time carving an animal design into their pumpkins.
Highfield House residents coloured in pictures and displayed them in the windows of their home.
Thank you to everyone who took part in the competition and congratulations to the winners! We hope you all had a great time decorating and getting spooky!